Author: Dr. Cheron Constance
---
In St. Vincent and the Grenadines, a volcanic eruption that flattened the agricultural sector has given greater urgency and impetus to efforts to 'build back better' from the COVID-19 crisis. Cheron Constance explains the effect of the eruption and its aftermath on farmers. She argues that to build back better, there must be fundamental changes in the government's attitude toward agriculture and the food system, and a commitment to transparent and coherent policy.
St. Vincent and the Grenadines is an independent nation formed by an archipelago of 32 islands and cays in the eastern Caribbean Sea. Its population is 111,253, on a total land area of 389 km² (150 mi²) with a rural-urban balance of 47.8% to 52.2%. Alongside tourism, agriculture is one of the country's two main industries, officially employing 26% of the population. The main crops are root vegetables, arrowroot starch, coconuts, spices, and bananas, much of which is transported from rural areas into the municipal market in the capital, Kingston.
Despite the importance of agriculture, there has been significant under-investment in the sector in recent years, with declarations by government ministers that 'agriculture is a thing of the past'. Instead, the government has focused on expanding tourism and services, including construction of the Argyle International Airport and tourism accommodation, with the rationale that a booming tourism economy enables locals to buy food from elsewhere. Consequently, St. Vincent and the Grenadines has high food import bill, including significant quantities of ultra-processed foods. It also has a very high rate of non-communicable disease which accounts for 81% of all deaths.
In 2020 and early 2021, St. Vincent and the Grenadines, like the rest of the Caribbean region, was already reeling from the contraction of the tourism economy caused by the Covid-19 pandemic. In a World Food Program survey, 38% of respondents reported skipping meals or eating less than usual. Covid has also hampered agricultural production, since farm workers' schedules and transportation access have been altered and international shipping delays have reduced the availability of agricultural inputs.
La Soufrière explodes
On 9 April 2021, shortly before 9 AM, the La Soufrière stratovolcano, located in the northern and central part of the main island, explosively erupted, blanketing the country with ash. In this first major eruption since 1979, La Soufrière spewed particles as high as 10 kilometres into the atmosphere, dangerously reducing air quality and visibility. According to the University of West Indies Seismic Research Centre (UWI-SRC), which runs a monitoring station for La Soufrière and had been regularly communicating on its stages of increasing activity since December 2020, the volcano erupted and vented dozens of times from 9-22 April.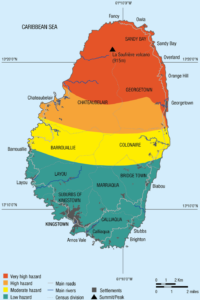 A colour-coded map produced by UWI-SRC and St. Vincent and the Grenadines' National Emergency Management Organization (NEMO) details the safest areas (green or yellow) and the most dangerous ones (red and orange) on the mainland. Up to 4 feet (approximately 120 cm) of ash fell in the most affected communities of the red zone, but ashfall was still significant throughout the mainland, including in the green zone.
The red and orange zones include some of the poorest communities in St. Vincent and the Grenadines, and some of the best agricultural lands due to the rich volcanic soil and the mountain springs that provide irrigation. The falling ash, pyroclastic flows (hot ash, superheated air, and debris travelling at high speed very close to the ground) and lahars (fast mudflows of water and volcanic debris) decimated fields, denuded fruit trees, killed livestock, and made transportation routes impassable.
After the first cleansing rains toward the end of April, residents nationwide had to remove ashes, made twice as heavy as when dry and stiffened into a cement-like substance. This heavy material collapsed roofs, broke tree limbs, and crusted onto fields. It prevented water from penetrating the top soil, causing runoff, and increased surface temperatures that killed microbes and organisms like worms that aerate the soil.
Evacuation and crisis response
Responding to warnings from UWI-SRC, the government issued a mandatory evacuation order on the afternoon of 8 April covering the red and orange zones. Nearly 25,000 people in 30 villages – or approximately 20 percent of the country's total population – were displaced. This number includes many of the nation's 10,000 registered farmers.
Approximately 60-70 percent of the country's food production normally comes from the areas that were officially evacuated, according to agro-ecological farmer Lennox Lampkin, co-owner of Lampkin's Natural Farm in the orange zone and Chair of the St. Vincent and the Grenadines Chamber of Agriculture & Nutrition. Lampkin, who previously also served as CEO of the St. Vincent and the Grenadines Chamber of Industry and Commerce, and his wife and business partner Joylyn, remained in the orange zone against the evacuation order to care for their livestock. From there, he shared their experiences of managing the farm through the days of the eruption in local and international radio and newspaper interviews, posts on Facebook, YouTube, and other social media.
Lampkin laments the lateness of the government's evacuation order, coming less than 24 hours prior to the eruption.
"There was little lead time for people to move animals, and a lot of people who had livestock didn't have transportation to move them," he said. "All the indications [from the government] were that 'Oh, [the volcano] was in an effusive [less dangerous] state of eruption,' … and we had been saying: 'No, look, this thing is going to explode."
Of the crisis response, he added that government-owned breeding stock was relocated to a safer area, but there was no provision to move privately-owned livestock. This is despite the FAO having met with St. Vincent and the Grenadines officials as early as December 2020 to plan for sheltering and feeding ruminant animals in safer areas of the country.
"I saw no evidence whatsoever of any structured program… it was not something organized across the sector," he said.
Agricultural lands in St. Vincent and the Grenadines are largely unfenced, and the government recommended that farmers release their animals prior to evacuating to give them a chance at survival. Those loose animals ate whatever vegetation they found, causing more damage to farms and with many dying nonetheless. Hungry dogs (unevacuated pets) also attacked and ate farm animals that were weakened from hunger. "Most of my damage was not from the volcano itself," Lampkin said. "Most of my farm damage was from animals, and subsequently damage from dogs that slaughtered my sheep."
The government allocated EC$3500 (around US$ 1230) income support to be paid in monthly instalments of EC$500 to each registered farmer from June through December of 2021. This amount (approximately US$6 per day) is insufficient to run a farming operation and to support a family. Considering that the government is giving non-farming red zone residents EC$400 monthly, the small difference does little to acknowledge the value of the agricultural sector to St. Vincent and the Grenadines.
Lampkin said a lump sum payment would have been a much smarter strategy, allowing farmers to pay for inputs and labour to help rehabilitate fields, remove ash, and replant – activities that require higher capital expenditure all at once. "You could even give them less than $3000 [in a lump sum], and they would be in a better position than [receiving] $500 a month."
Additionally, farmers must take an entire working day to collect this money each payday, often from very crowded pick-up points without social distancing space – a process Lampkin described as "disrespectful" of the farming community. He explained that this amounts to 60,000 working hours for the country's 10,000 farmers for each of the scheduled paydays. In Lampkin's case, his payment pick-up location was in a [then] still-evacuated area of the red zone, which meant additional travel time and a risk to personal safety.
Medium- to long-term food system impact
As the volcanic ash destroyed all of the vegetable crops and 80% of the root crops in the red zone and 75% of the crops overall in the orange zone, there is concern about rising food prices in the coming months. Many farmers have not returned to work or have no resources to re-plant or buy seeds. One red zone farmer interviewed by a local journalist reported paying four times the cost of transporting his goods to the municipal market in Kingstown, as they now go by boat instead of overland. Some crops currently sold at the municipal market show the volcano's effects: black spots, burns, smaller sizes, and poor yields.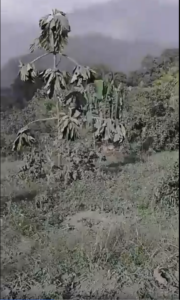 Though it is likely the severest shortages will not be evident for some time, the eruption of La Soufrière has already altered food trade between Caribbean nations. St. Vincent and the Grenadines was an established exporter of root crops, coconuts, and ginger, but now it is importing those items from Trinidad and Tobago and St Lucia.
What is more, much of the food currently available in St. Vincent and the Grenadines is from international relief parcels and donations from the Vincentian diaspora comprising canned meats, dried pasta, and an abundance of ultra-processed foods such as snack items high in sugar, fat, and salt. There is concern that increased consumption of these foods will worsen the already high incidence of non-communicable disease and reduce even further the market for nutrient-dense, locally-grown foods.
Actions for a resilient, revalued food system
At a time when potential climate- and pandemic- related hazards are becoming more frequent, often compounding each other's effects, there is an urgent need for food systems transformation in St. Vincent and the Grenadines. The following actions are crucial if St. Vincent and the Grenadines is to learn from this eruption, build back better, and help the farming community through other crises that follow.
Revalue and invest in agriculture
Investment in agriculture in St. Vincent and the Grenadines is imperative, including infrastructure and road improvements, and a livestock registration system (to help address livestock theft, animal health and welfare, and damage to products and property by loose animals).There is also a need for up-to-date data on the agricultural sector; according to Lampkin, there has been no census of agriculture in St. Vincent and the Grenadines since 2000. Without current, transparent, and publicly available data, strategic planning for agricultural development will be impossible.
Develop and implement local food policies – from production to consumption
In late 2020, the Ministry of Agriculture proclaimed local food provisioning as a priority; the main motivation was to slash a high food import bill. An initial plan to engage with stakeholders subsequently radically switched discourse from local consumption to production mainly for the tourist market. Policies must address issues of demand and development of Vincentian palates that have been diminished by the decades-long importation of highly processed food.Genuine efforts to engage with local food must recognize the demand for local food is lowest in the communities that actually grow local products. According to Lampkin, these farmers may plant many crops, including greens, lettuces, and fruit that they do not themselves eat.
Re-envisioning tourism
While St. Vincent and the Grenadines certainly needs tourism, the development of the agriculture sector need not decline in the face of tourism's development. Indeed, as the full revitalization of tourism will take several years in the face of the COVID-19 pandemic and the eruption, St. Vincent and the Grenadines must look at multiple avenues to use its natural resources.St. Vincent and the Grenadines can learn from other Caribbean countries that are re-envision tourism and seeking to shift away from the exploitative dynamics that foreign entities have wielded over Caribbean countries, including through food and agri-tourism (such as Nevis's local food initiative).
Include agriculture and food in disaster risk reduction planning
The government of St. Vincent and the Grenadines must learn from the experience of La Soufrière and include agriculture and food in disaster risk reduction planning. This may include putting in place adequate early warning systems for all likely hazards; providing farmers with knowledge, skills, and equipment to adopt practices to increase resilience; drawing up protocols to protect crops and livestock; and budgeting for adequate and appropriately-distributed relief funds.
---
Cheron Constance became interested in food systems, communities, and policy after a flirtation with cooking school. She is particularly interested in researching topics in cooperative economics, agro-ecology, food waste and food loss, and access to land. She holds an MSc in Food Policy and a PhD in Rural Sociology. She can be reached via LinkedIn.