Resilience Innovation 1 – The Role of Urban and Peri-urban Agriculture in Urban Resilience
17 November | 13.45-14.45 (Manila Time)
Register here.
Urban households predominantly depend on foods grown from rural and peri-urban areas. Urban agriculture is small-scale and informal, resulting in unstable production and inadequate to meet the growing demands. As a result, poor, vulnerable, and marginalized households in urban areas regularly face food insecurity issues, and they are nutritionally deprived, despite food-related expenses being their significant expenditure. The shock posed by the COVID-19 pandemic further revealed the fragility of urban food systems, their supply chain, and notably vulnerability and food insecurity of urban poor. In the future, climate change and its effects on the agriculture sector will continue to disrupt food systems and may pose severe threats to food security. This session will discuss the importance of urban agriculture for resilience and highlight key challenges and opportunities for scaling up investments in urban agriculture in Asian cities.
This session will be moderated by René van Veenhuizen, RUAF Senior Project Manager.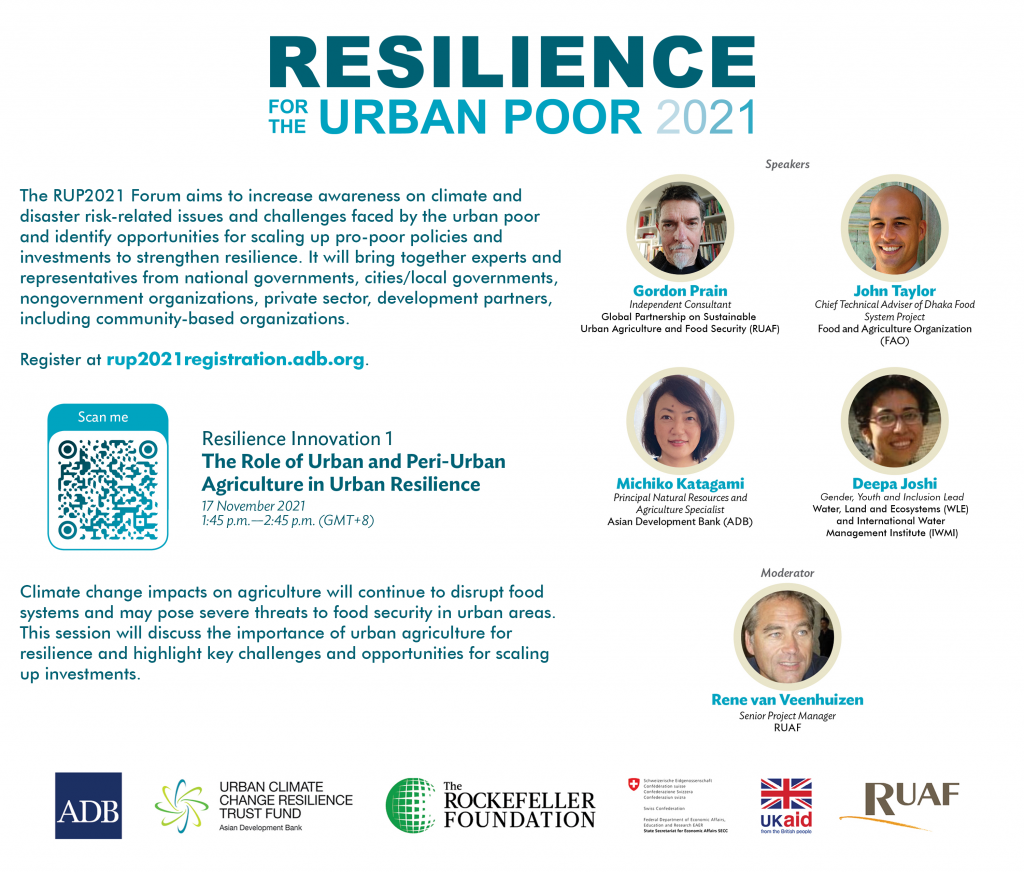 ---
About the RUP2021 Forum
Building the resilience of the urban poor is a critical issue for rapidly urbanizing countries in Asia and the Pacific. Cities and other urban areas are major drivers of national economies and home to an increasing urban poor population who are significantly contributing to productivity, both in the formal and informal sectors, to achieve national development goals. However, natural hazards and climate change threaten these goals and may erode the gains that have already been achieved. The impacts of climate change are expected to worsen in the coming years and decades, and the effects that these have on urban residents—particularly the poor—will be shaped by decisions and investments made now.
The RUP2021 Forum, a three-day knowledge-sharing event, aims to increase awareness of ADB's developing member countries on disaster and climate risk-related issues and challenges faced by the urban poor, and identify opportunities for scaling up pro-poor policies and investments to strengthen the resilience of the urban poor. It will highlight both current and emerging issues, potential innovative solutions, and multisectoral, multiscalar, and transformational approaches to building resilience. The RUP2021 Forum will include learning sessions on use of climate and disaster risk information in designing pro-poor investments for building resilience.
Objectives
The RUP2021 Forum will:
discuss key challenges and opportunities for scaling up pro-poor policies and investments targeted at strengthening resilience at household, community, and city levels;
identify emerging climate threats faced by the urban poor and that require increased policy attention and innovative cross-sectoral solutions;
delve into enabling factors for unlocking transformational changes to build resilience of the urban poor; and
conduct group learning sessions with experts to help design resilience-building investments for the urban poor using climate and disaster risk information.
Details
Date: 16 – 18 November 2021
Time: 11:15 a.m.-4:00 p.m., Manila time (GMT +8)
The full Agenda can be download here. For more information, please visit ADB website.