by Samuel Ikua, Mazingira Institute
With over 200 staff at the Food Agriculture and Forestry Sector and an Urban Agriculture Promotion and Regulation Act (2015), Nairobi City County is leading in urban agriculture in both policy and practice. Most importantly, it has agricultural extension officers in crops and livestock at the sub-county level. These officers offer demand-driven technical support to farmers and are always available on call! Recently, they organised a farmer's field day in an informal settlement to demonstrate urban agriculture practices across the food value chain.
The field day was organised by the extension officers together with the members of the Nairobi and Environs Food Security Agriculture and Livestock Forum (NEFSALF). NEFSALF is a platform and network of urban and peri-urban farmers in Nairobi and its environs and it is convened by Mazingira Institute, a RUAF partner in Kenya. The field day was hosted by Huruma Town Youth Group, which practices urban agriculture with a specialisation on dairy goats.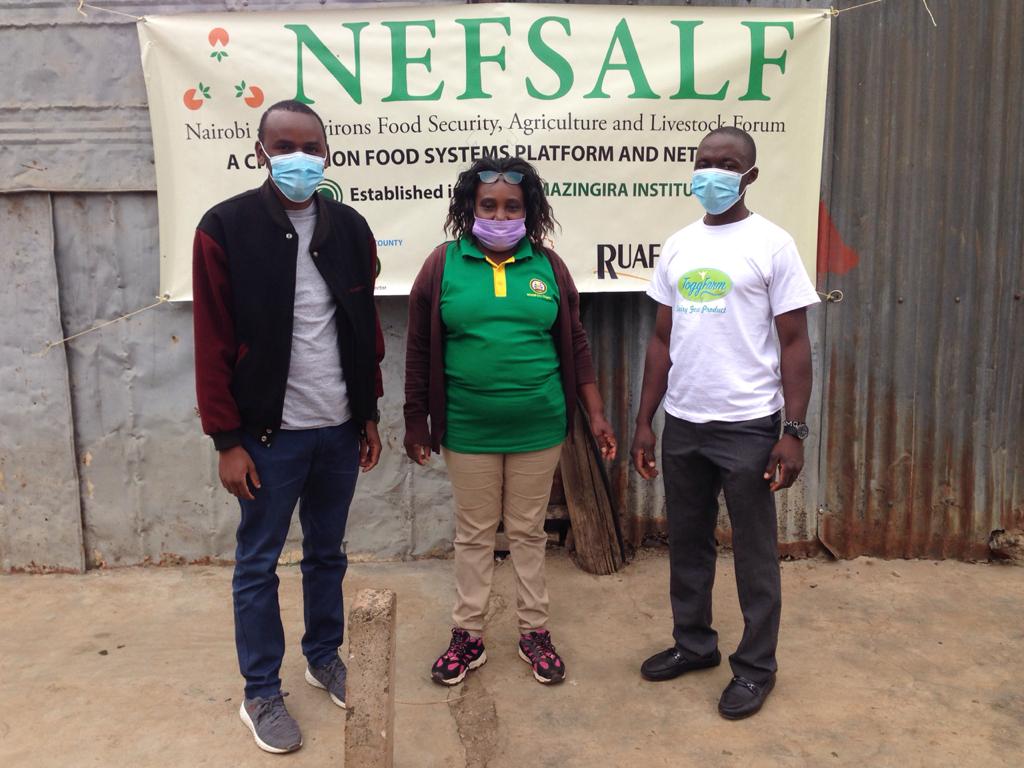 Crops extension officer Jane Gateri (center) of Mathare sub-county with Kevin Uduny (right) a youth farmer and team leader of Huruma Town Youth Group, who is also a member of NEFSALF Mentor's Hub, and Samuel Ikua (left), Project Manager at Mazingira Institute, during the field day. Kevin was trained on urban and peri-urban agriculture at Mazingira Institute. As a member of NEFSALF Mentor's Hub, Kevin mentors young farmers in Mathare informal settlement.
The officers offered technical guidance on crop production, livestock keeping, agro-processing, waste management, among others. Below are a few photos to tell the story of the field day and the extension services.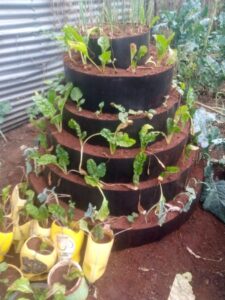 A multi-storey garden for vegetable production. This model takes up little space and conserves water, thus it is appropriate for informal settlements which face water and land challenges for urban agriculture production. The model can produce a variety of vegetables, enough for an average household and sometimes can produce surplus for income.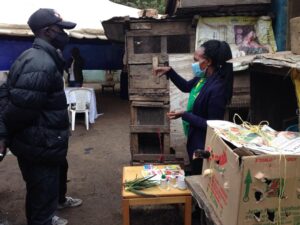 An extension officer explains a point to a youth poultry keeper. Many youths in the informal settlements are getting into chicken rearing since it does not take up much space. They rear chicken, especially the indigenous varieties, to make income by selling eggs or meat. In the box on the right are some day-old chicks.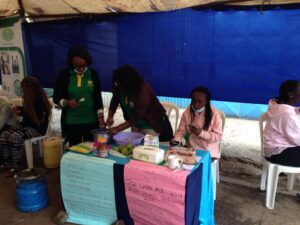 Extension officers offering a practical lesson on agro-processing. They demonstrated tomato processing to make jam. They encouraged urban farmers to venture into other components of the food value chain such as processing and distribution, and not just focus on production. Several women members of NEFSALF are involved in processing, such as peanut butter and yoghurt.
Below is a youth showcasing their processed peanut butter, honey and cheese. Youths are finding rewarding opportunities in the value addition of agro-products. Value addition provides additional opportunities for income and increases the shelf-life of the products since processed products such as yoghurt do not spoil as easily as unprocessed foodstuffs.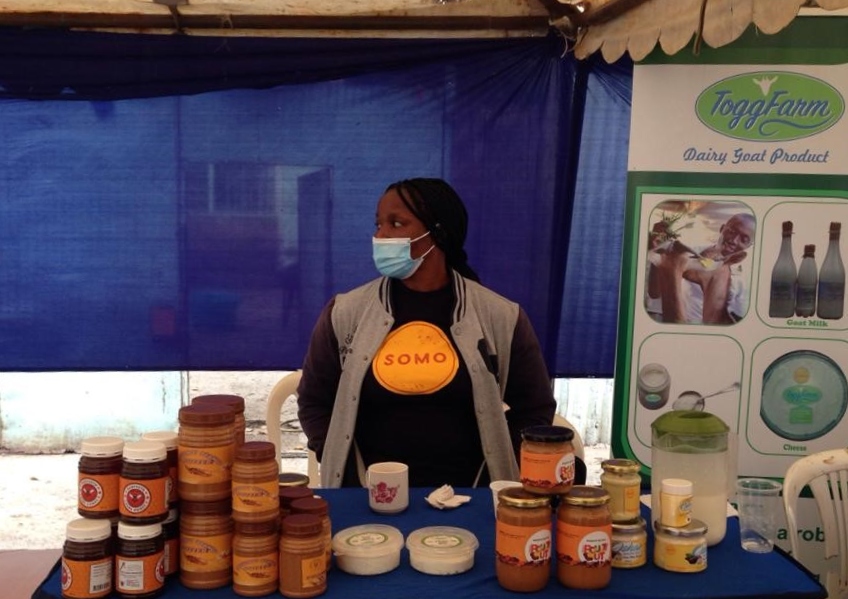 Extension officers sharing home processed yoghurt with youths. Informal food operations are a key source of income and food for residents of informal settlements. The youth group keeps dairy goats and processes the milk into yoghurt. Yoghurt provides them with additional income, as well as earnings from selling raw milk.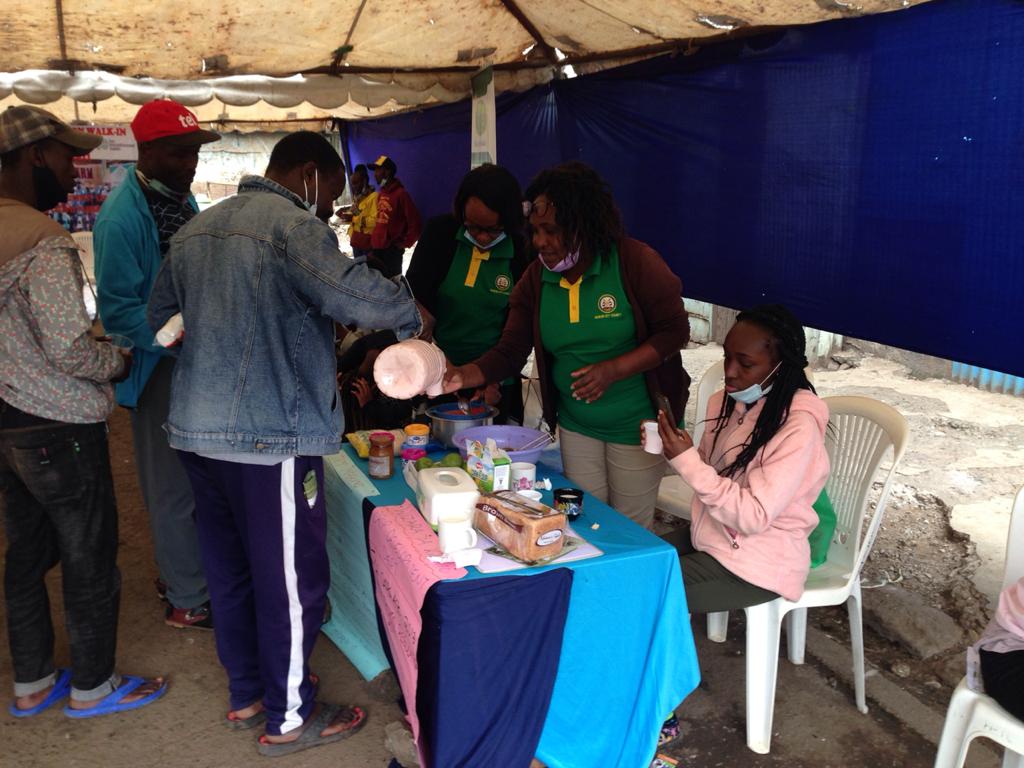 Declining soil health from use of harmful chemical fertilizers has necessitated innovation of organic products for use as fertilizer. One such product is compost produced by the black soldier fly. The black soldier fly consumes animal and food waste to produce high quality and healthy compost for use as organic fertilizer, which improves soil quality. By recycling animal waste, black soldier flies help in combating climate change, since animal waste produces methane which is part of greenhouse gases emissions contributing to global warming. This is a clear demonstration of urban agriculture's contribution to climate change mitigation. Black soldier fly also has high protein content, thus it is normally used as chicken and pig feed.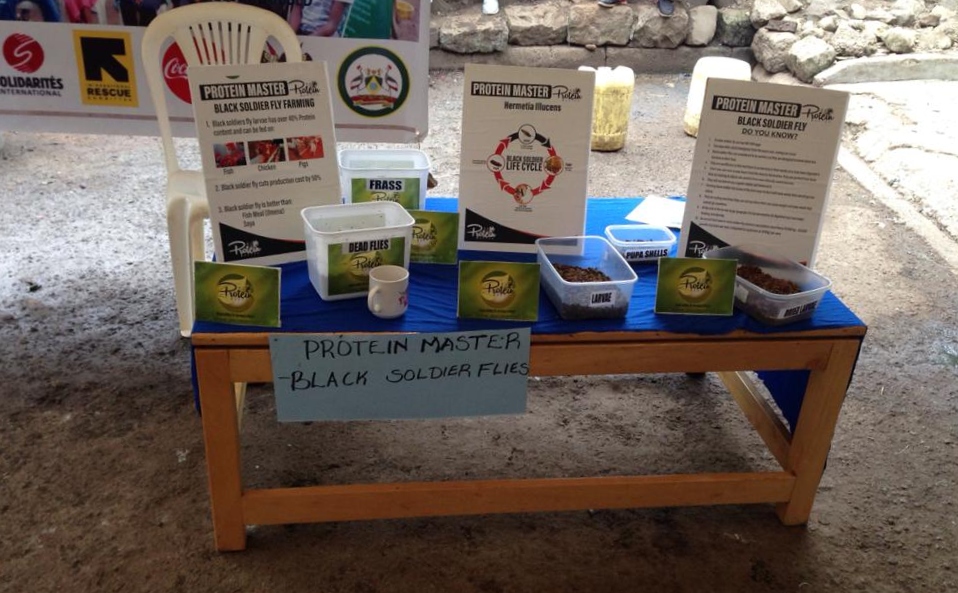 In summary, Nairobi has created an enabling environment for urban agriculture, having a specific urban (County) Agriculture Policy and an entire Sector (department) of over 200 staff dedicated to enhancing urban agriculture, including agricultural extension at the grassroots level. However, additional initiatives are required to further support urban agriculture. The most important initiative would be for authorities to improve access to land and water, especially in informal settlements. These collective efforts would progressively promote household food security in informal settlements.