Edited by Andrew Adam-Bradford, René van Veenhuizen, Isabela Vera, Mary Njenga, Joe Nasr | Proposed for the Springer Urban Agriculture Book Series
---
The UN Refugee Agency (UNHCR) estimates that globally there are now over 80 million forcibly displaced persons (FDPs), a term which includes refugees, internally displaced persons, and returnees. Concentrated in cities or quasi-urban environments such as camps and settlements, FDPs often have limited autonomy to determine their own livelihoods and as a result may depend on external support to meet their food needs. The presence of FDPs exerts added pressure on resource-limited environments, a phenomenon that can result in local conflicts with host communities. 
Integrating urban and peri-urban agriculture (UPA) into development and humanitarian assistance provides opportunities for both FDPs and host communities. In the often-fragile contexts of forced displacement, it can increase resilience at both the livelihood and landscape levels. Urban/Peri-Urban Agriculture and Forced Displacement, a forthcoming volume planned for the Springer Urban Agriculture Book Series, examines the role of UPA in improving the livelihoods for FDPs and host communities, as well as in contributing to sustainable and resilient settlements and cities more broadly. 
Edited by Andrew Adam-Bradford, René van Veenhuizen, Isabela Vera, Mary Njenga, and Joe Nasr, the book will be the first of its kind to examine the role of UPA in situations of forced displacement. It will use historical and contemporary case studies from around the world, covering displacement camps, refugee and host community settlements, and urban areas. It will emphasize the role of UPA in supporting food supply chains, food security, gender equity, and social cohesion and inclusion for FDPs and host communities alike.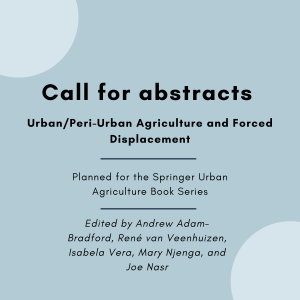 We are calling for abstracts of case studies, comparative analysis, and cross-cutting reports on UPA interventions related to forced displacement for potential inclusion in the volume. Submissions can showcase UPA in multiple forms (such as micro-gardening, hydroponics, permaculture, agroecology, livestock rearing, agroforestry, bioenergy, and larger-scale entrepreneurial production). Diverse contexts will be included: urban areas, camps, and settlements; low-, mid- and high-income countries; short-term, mid-term, and protracted displacement; and formal and informal resettlement. Submissions may relate to urban planning, project design, development programming, and/or landscape approaches. Ongoing, recent, and historic examples are welcome.
Abstracts will be due by January 31, 2022. To submit an abstract, please find our abstract submission form with further details and instructions here: https://forms.gle/F4MrkdtYXtkgTVL67. In the case that you can't meet the deadline, we kindly encourage you to get in touch regardless and we can negotiate a suitable timeline.
A copy of the book's concept note is viewable here: https://bit.ly/30I9yZO
For any further questions, please contact Isabela Vera at isabelajvera@gmail.com.